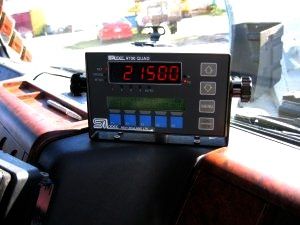 Introducing the titan among multichannel indicators! Experience vivid, easily decipherable displays fused with cutting-edge programmable features.
Crafted for adaptability, the 9700 series Weigh Indicators are unparalleled in their precision, dependability, and user-friendly operation within the on-board scale meter domain. Their design facilitates effortless adjustments to cater to shifting system needs.
Highlighting its versatile nature, this indicator can seamlessly merge readings from varying scale systems. A notable example: many of the modern Logging Trucks utilize a Loadcell-based scale system beneath their bolsters, while integrating a Smart-Air, pressure-centric scale system for their trailers. The 9700 series adeptly captures readings from both systems, presenting an aggregate weight on a single indicator.
No other meter has the capabilities, quantities and successful track record of the 9700 series.
Key Features Include
Super-Bright 15 mm high, red, seven segment LED display
Two-wire, non polarity sensitive, digital technology provides ultimate reliability
Quick two step calibration
Advanced calibration function for calibrating the scale without a load
Simple diagnostics allow each system component to be quickly checked from the meter
Available in one, two, three or four channel
Capable of monitoring individual load cell outputs
Quick switching from GROSS to NET and quick TARE RESET
Easy trailer ID function provides for interchanging multiple trailer and tractors
Compatible with all models of On-Board scale load cells and sensors

Introducing the unmatched prowess of Si-Lodec! Revel in the intuitive operation of a meter that boasts a streamlined two-step calibration process and the ability to diagnose system components right from the meter itself. Yet, this is merely the beginning. Si-Lodec is unwavering in its commitment to premium customer support, ensuring you always have access to on-call assistance when required.
Venture into Si-Lodec's comprehensive accessory portfolio, designed to seamlessly integrate with printers and effortlessly connect with a majority of contemporary GPS Fleet management units. This extends right up to the SI Lodec RITS wireless remote displays.
The RITS innovation by Si-Lodec revolutionizes remote weight monitoring for vehicles. Be it the forklift operator, the loader driver, or even the harvester pilot, our advanced SiRITS module equips everyone with real-time insights, enabling optimal load management without overshooting limits. The best part? You can access all this power right from your Android or Apple device, be it a tablet or smartphone!
Intrigued to delve deeper into this or explore our spectrum of trailblazing solutions? Reach out to our Sales Department at 07 349 4700. Elevate your operations with Si-Lodec!